Well, friends, I am in Monaco until the middle of August. I'm back for a 2nd year, performing in the house band of the Monte-Carlo Summer Sporting Festival. We'll be opening for an unbelievable slew of artists like: Santana, Sting, George Benson, George Ezra, Anastacia, Enrique Iglesias and more! I'll be chronicling the adventures here when I can! The band is: me (guitar), Justin Caldwell (lead vocals, guitar, percussion), Courtney Jaye (lead vocals, guitar, percussion), Ian Miller (keyboards), Taylor Jones (bass) and Ross McReynolds (drums, percussion). Follow me on Instagram or Twitter for more timely posts.


July 27 - August 2: Swamp Donkeys, Johnny Hallyday, Simple Minds, Il Volo & Julien Clerc


So… things have calmed down quite a bit since the big Red Cross show with Sting. The events of the last week don't really warrant a day-by-day breakdown (also, I don't really want to do that), so here are the highlights:
New Orleans brass band the Swamp Donkeys were here for several days. It was cool to have some other people from the USA around and the band was absolutely phenomenal. We were all clamoring for ways to get them to Nashville. I'm sure we will see them down the line very soon.


While they were here we opened for the "French Elvis" Johnny Hallyday for two days. I didn't catch much of his show, but the audience was into it and filled the place twice, so that's good!


During the day Tuesday we received an information-packed guided tour of Les Grands Appartements of the Palace. We weren't allowed to take photos, but it was a whirlwind of historic names and information and fancy rooms. I'm not sure I truly know any more Monegasque history than when I went in, but it was cool!
The following day we opened for 80s pop act Simple Minds. If you're old like me, you may remember them as the band behind that one song from the Breakfast Club.


Somebody had to take the picture, you know.


After that, we opened for Italian singers Il Volo:


And Julien Clerc:


As you can probably tell from my lack of information and enthusiasm, I didn't stay to watch either of these acts.
Yesterday we got our penultimate day off and Taylor and I went to Antibes (a city to the west past Nice) to look around and have a short adventure. We took the train there and walked around the walled city, some cool modern art sculptures and Fort Carré, a 16th century garrison located on the coast on a peninsula. Fun side note: Fort Carré was used as the villain's fortress in the James Bond film, Never Say Never Again.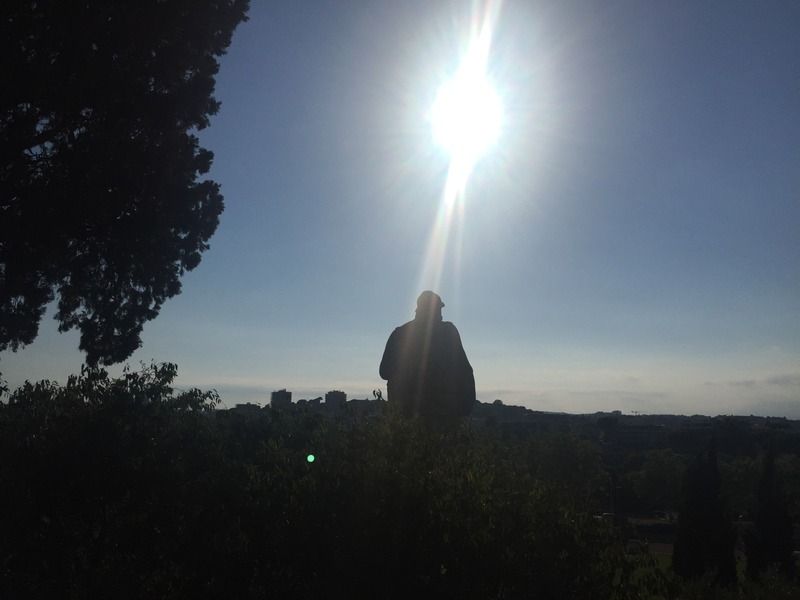 Cool giant soldier statue from behind the World War I Memorial at Fort Carré



"Go ahead, say that word in French without using a uvular fricative one more time."
Tonight we open for a show called 100 Voices of Gospel and soundcheck sounded great!